Interior design
Our collaboration with the best designers in the market provides the customer with the best proposals, according to their needs and their lifestyle. We firmly believe this is the only way to reach the full satisfaction of our clients, especially those whose desire is to get something truly exclusive for themselves. From deep restructuring, even structural, to the smallest details, our priority is to provide you with the best service on the market. It doesn't matter how complicated it might be. Our professionals have been selected to realize any kind of change, both internal and external. From most sophisticated changes, to interior furnishings, passing through a review of the spaces or, more in general, a modernization of furnitures or decorations, our mission is to find the best solution for the customer.
Painting and resining
The surface of a boat is its most vulnerable part, and we know it. That's why we only utilise the best paints and resins available on the market and our experience allows us to know every intimate secret of them. Whatever the customer's desire we will be able to make it a reality.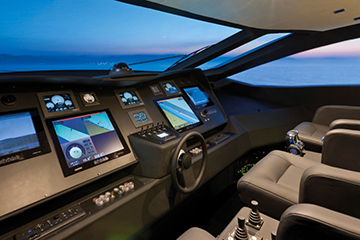 Electronic Systems
Electronic systems are crucial in every kind of boat. For this reason we created a wide range of partnerships with the most important companies on the market in order to be able to solve any problem that might compromise your navigation. Electronic equipment is among the most delicate parts of any boat. This is why we cannot afford to make any mistakes. We are warranty of efficiency. Our final goal is to allow our customers to experience the best sailing experience of their life. No holiday can be ruined. Your satisfaction is our victory.
Woodwork
The master wooodworkers, lifelong partners of ours, are always eager to innovate. Each one of them has his own personal style which, when combined, can deliver all kinds of improvement according to the highest standards of beauty for each volume on board. From the teak of the upper deck to the parquet floors of the salons and the sleeping area, each individual axe-master is ready to take on a new challenge. Thanks to their experience and the exploitation of the best technologies available on the market, the result is always the expected one. The interior design and woodwork departments are structured to work in a synergic way so that we can offer our customers the best experience and satisfaction.